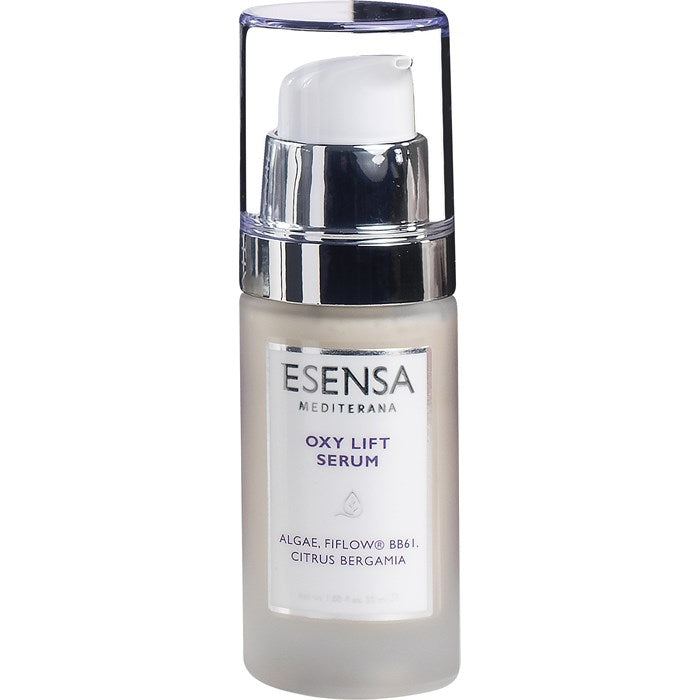 Oxy Lift Serum │ Moisturizing & regenerating serum
€58,00
Sale

• Save
Unit price
€193,33
per
100 ml
Each
Oxy Lift Serum │ Moisturizing & regenerating serum by Esensa Mediterana
This oil-free serum with Laminaria Ochroleuca Algae, Fiflow® BB61 and Bergamot promotes the supply of moisture and oxygen to the skin, restoring its luminosity and elasticity. The innovative formula of this regenerative serum helps the skin in the natural production of collagen and elastin and is the ideal complement to OXYLIS CREAM.

Line: Oxylis Essence - oxygen for tired & sallow complexion
30ml
Application: Apply the serum mornings and evenings to the thoroughly cleansed and toned skin of the face and neck and gently massage in with circular movements.
Ingredients: Aqua, Algae, Glycerin, Perfluorohexane (and) Perfluorodecalin (and) Pentafluoropropane, Hydrolyzed Myrtus Communis Leaf Extract, Sodium Stearoyl Glutamate, Olea
Europaea Fruit Oil, Cetyl Alcohol, Caprylic/Capric Triglyceride, Laminaria Ochroleuca Extract, Tocopheryl Acetate, Resveratrol, Propylene Glycol, Dehydroacetic Acid, Benzyl Alcohol, Hydroxyethylcellulose, Helianthus Annus Seed Oil,
Rosmarinus Officinalis Leaf Extract, Citric Acid, Lecithin, Tocopherol, Ascorbyl Palmitate, Sodium Polyacrylate, Phenoxyethanol, Ethylhexylglycerin, Parfum, Citronellol, Geraniol.  
Mediterane Kosmetik für gesunde und schöne Haut
Oxylis Essence - Sauerstoff für müden & fahlen Teint
Pflege für Leuchtkraft und Ausstrahlung
OXYLIS ESSENCE ist ein hervorragendes «Mediterranes Elixier» bei müder Haut, fahlem Teint und Pigmentflecken. Die Braunalge Laminaria Ochroleuca in Kombination mit Plankton-Extrakten und der revolutionären Technologie Fiflow® BB61 hilft Giftstoffe abzubauen, sorgt für eine optimale Sauerstoffversorgung und hellt Pigmentflecken auf. Wertvolle Spurenelemente und Mineralien verleihen der Haut neue Energie und lassen sie jünger und strahlend aussehen.
ESENSA MEDITERANA
Erleben Sie Pflegeprodukte mit der einzigartigen Synergie aus Phyto-, Aroma- & Thalassotherapie! Wertvolle ätherische Öle und wirkstoffreiche Pflanzen- und Meeresextrakte versprechen höchste Wirksamkeit, optimale Verträglichkeit und ein außergewöhnliches Pflegeerlebnis.
Mehr erfahren