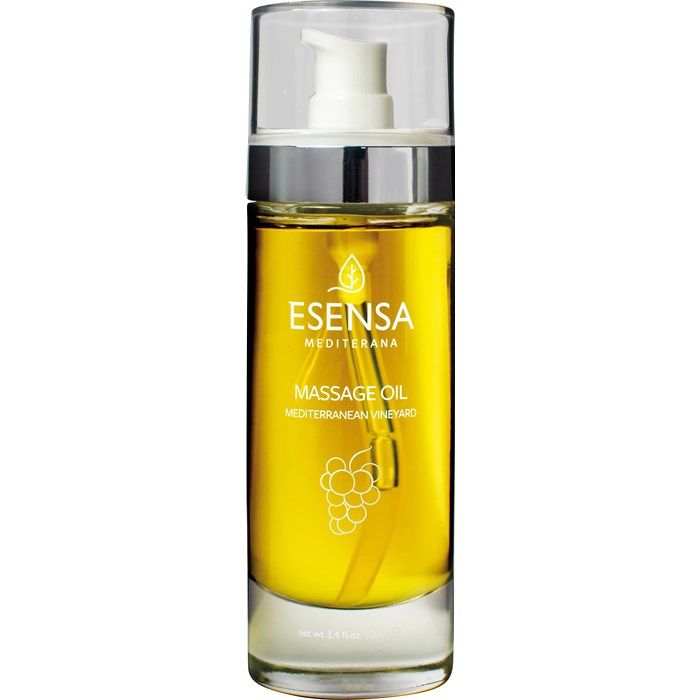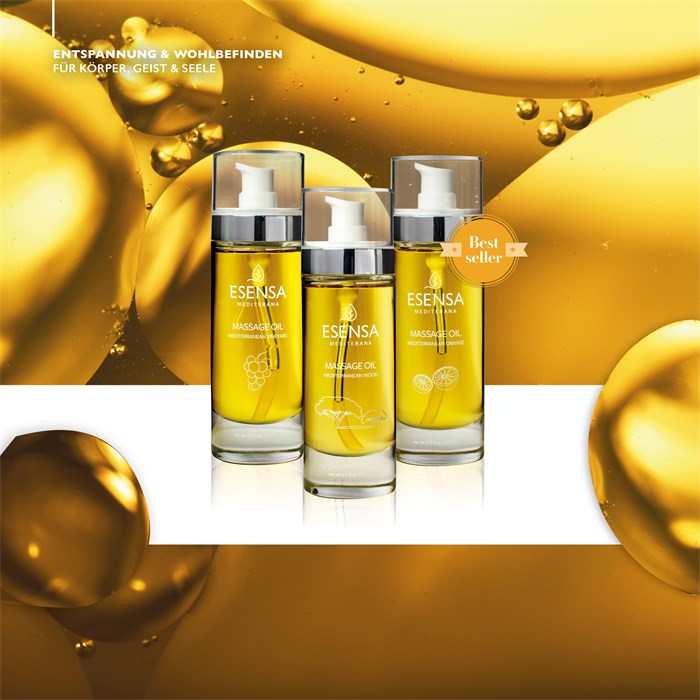 Massage oil Vineyard │ Relaxing & soothing aromatic oil
€36,00
Sale

• Save
Unit price
€36,00
per
100 ml
Each
Massage oil Vineyard │ Relaxing & soothing aroma oil from Esensa Mediterana
The high proportion of grape seed oil keeps the skin elastic and tightens the connective tissue. It has a fine texture, is rich in vitamins E, B1, B6 and antioxidant bioflavonoids. It nourishes and protects the skin intensively and makes even rough skin soft and tender again. The scent of sweet grapes enchants mind and soul.

Line : Body Essence - body and massage oils
100ml
Application: Warm the massage oil between the palms of your hands and massage evenly into the skin with gentle, circular movements. Massages with ESENSA MEDITERANA oils support the body's natural processes and stimulate microcirculation.
Ingredients: Vitis Vinifera Seed Oil, Sesamum Indicum Oil, Prunus, Amygdalus Dulcis Oil, Helianthus Annuus Seed Oil, Ethylhexyl Palmitate, Salvia Officinalis Oil, Tocopheryl Acetate, Salvia Officinalis Oil, Rosmarinus Officinalis Leaf Extract, Lecithin, Tocopherol, Ascorbyl Palmitate, Parfum, linalool, limonene, citronellol, geraniol.

Mediterane Kosmetik für gesunde und schöne Haut
Body Essence - Körper- und Massageöle
Aromatherapie für Körper, Geist & Seele
Die ESENSA MEDITERANA Aromaöle haben eine wohltuende und entspannende Wirkung auf Körper, Geist und Seele. Natürliche, qualitativ hochwertige Basisöle wie Traubenkern-, Sesam- und Mandelöl gemischt mit 100% reinen ätherischen Ölen aus Lavendel, Pinie und Orange ergeben duftende und pflegende Kostbarkeiten. Die Aromaöle eignen sich für entspannende Massagen, wohlriechende Kräuter- und Blütenbäder und haben eine pflegende und straffende Wirkung auf die Haut.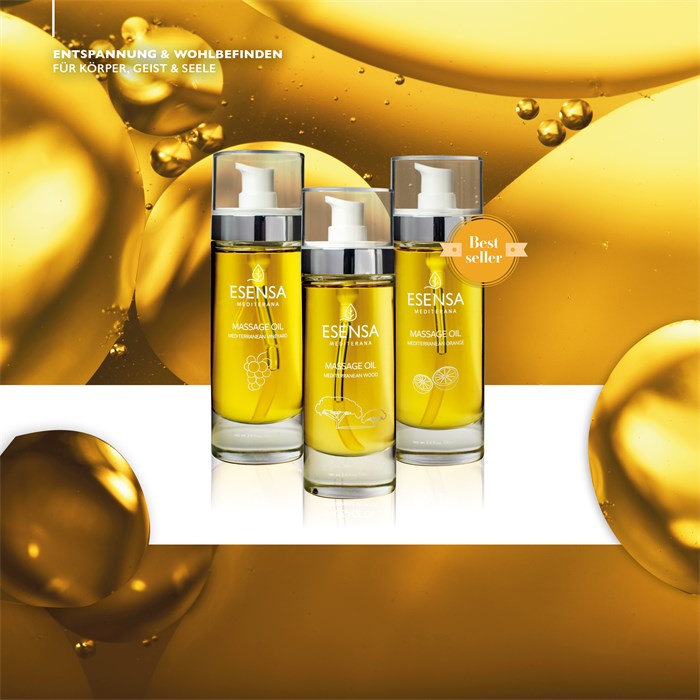 ESENSA MEDITERANA
Erleben Sie Pflegeprodukte mit der einzigartigen Synergie aus Phyto-, Aroma- & Thalassotherapie! Wertvolle ätherische Öle und wirkstoffreiche Pflanzen- und Meeresextrakte versprechen höchste Wirksamkeit, optimale Verträglichkeit und ein außergewöhnliches Pflegeerlebnis.
Mehr erfahren