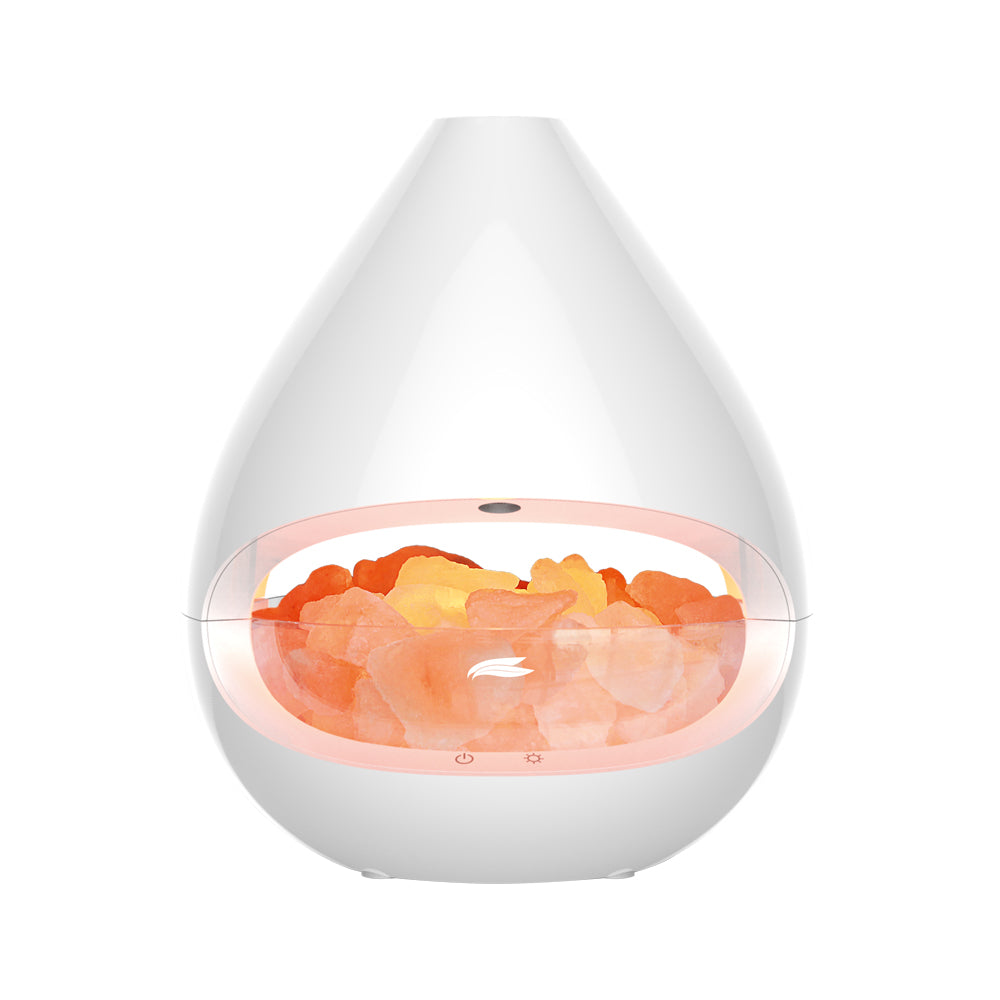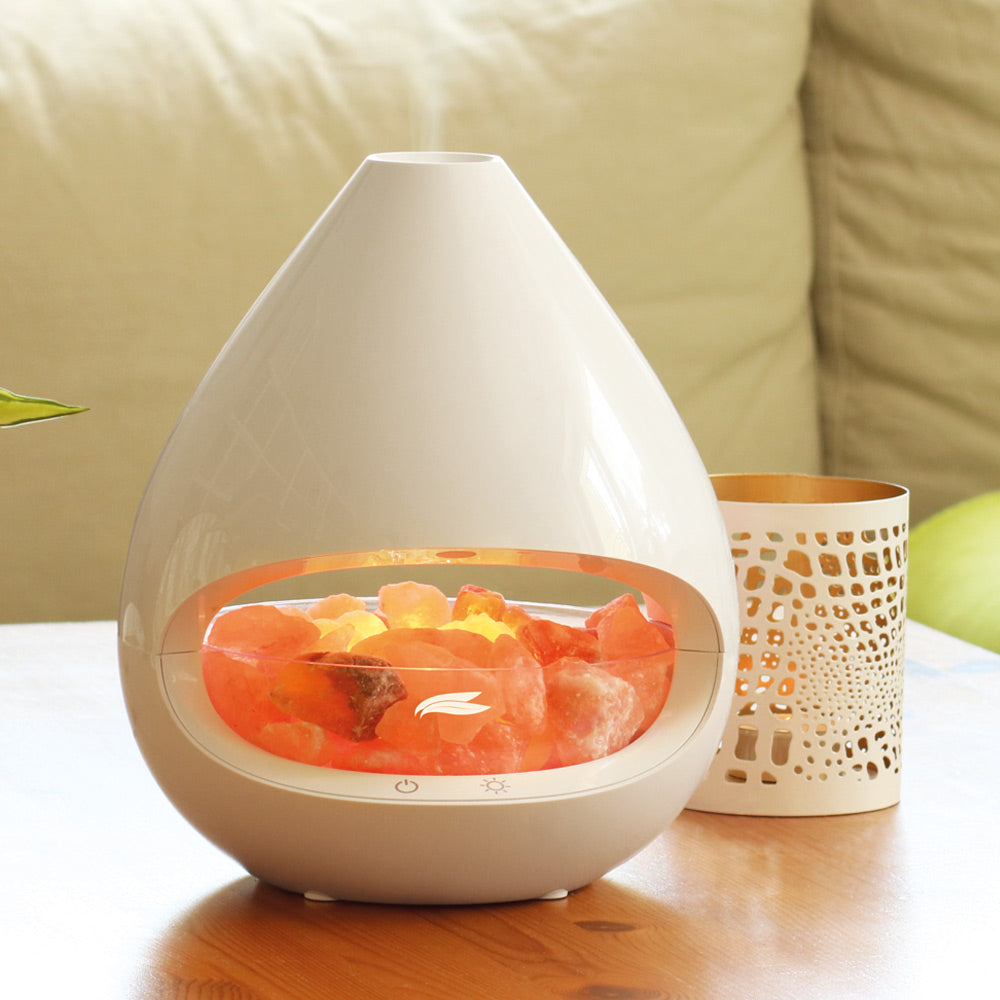 Diffuser and salt crystal lamp SALIS
Room diffuser with salt stones, H: 22 cm, Ø 19 cm

Soothing scents and a warm glow of light envelop your senses and immerse your home in a pleasant feel-good atmosphere full of warmth and security.
The aroma diffuser SALIS is not only an air humidifier and room diffuser , but also a salt crystal lamp and ionizer in one.
Thanks to the integrated lighting of the SALIS, the salt crystals spread a warm glow in countless shades of pink and orange - for a particularly calming and balanced mood .
Through the warmth of the light, the salt is said to emit negative ions into the room air , thereby neutralizing the air – i.e. having an ionizing effect – and positively influencing the room climate .
Salt crystal lamps are said to have a beneficial effect on us. They should be able to promote restful sleep, deep relaxation, meditation, but also creativity. The mood light can be easily adjusted in five intensity levels at the push of a button.
With the help of natural essential oils, you can transform your SALIS into a wonderful room fragrance in no time at all. Add a few drops of your favorite fragrance - i.e. a natural essential oil - to the water in the diffuser.
The pleasant and gentle scent of essential oils can also help you relax and switch off from everyday life.
The practical and particularly easy handling of the SALIS allows you to use the indirect lighting and the nebulizer function independently of each other.
So you can use one of the functions and switch the other on or off as you wish.
If the water level is too low, the diffuser even switches off automatically. SALIS is therefore not only suitable for offices or yoga studios, but also perfect for your living room and bedroom.
Voltage: DC 24V, 20W Capacity: 160 ml Bulb: G4 halogen lamp 24V, 10W
Geräuchlose Ultraschalltechnologie
Raumbefeuchter & Raumbedufter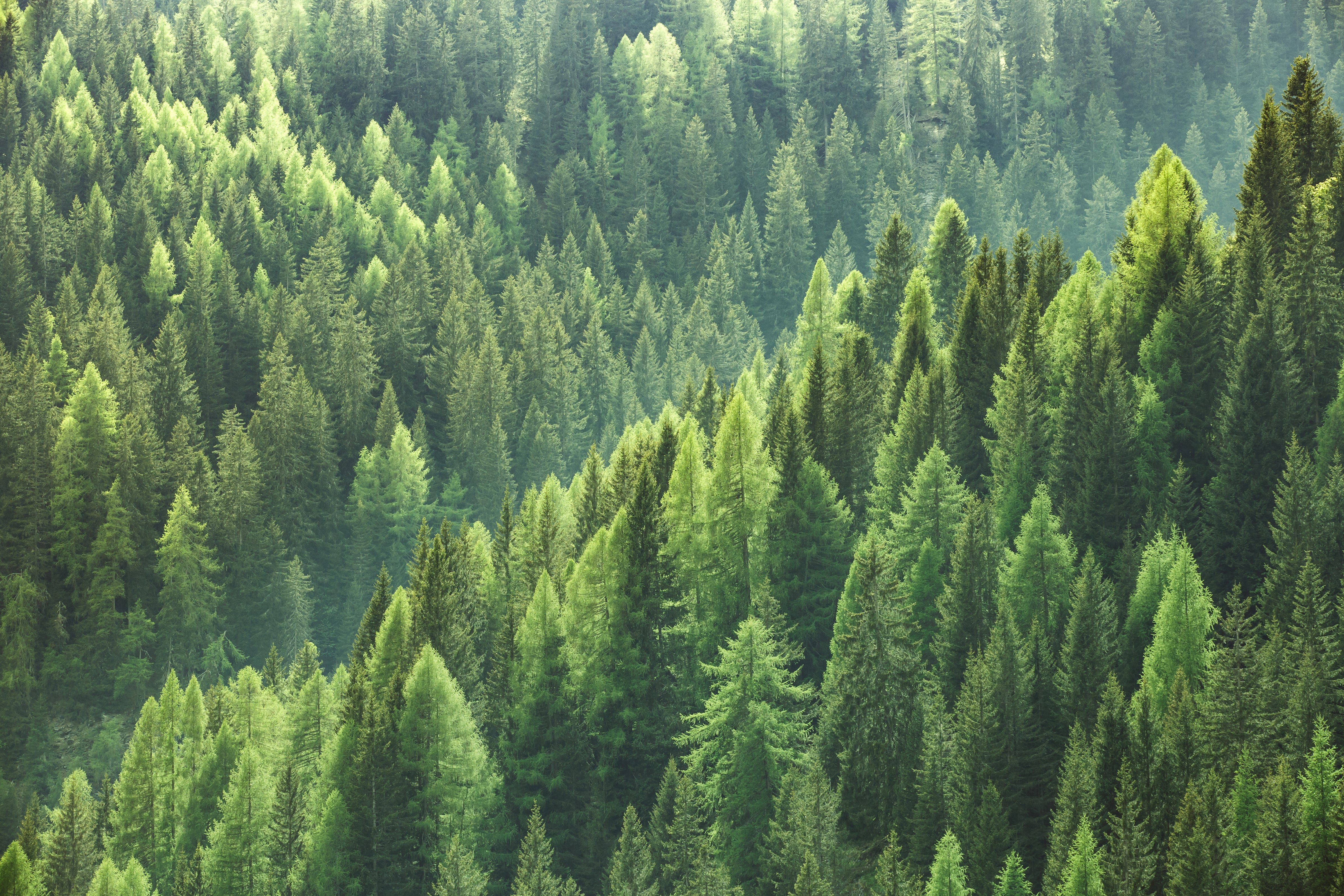 JOILS steht für die Freude an Düften und Ölen - in Verbindung mit der Liebe zur Natur und naturreinen Produkten daraus.
Wir sind ein Familienunternehmen aus Baden-Württemberg und sind sehr Stolz darauf, dass wir bei der Produktion unserer Produkte Werte wie Tradition, Regionalität und Nachhaltigkeit einhalten können.
Unsere Produkte werden mit viel Liebe in unserer Manufaktur im SCHWARZWALD produziert und abgefüllt & von unserer Firmenzentrale in STUTTGART versendet.
Wir arbeiten ausserdem partnerschaftlich mit einigen ausgewählten Händlern in Deutschland zusammen, die unsere Produkte ebenso lieben wie wir!
Mehr erfahren